EasyAVR v7 is top selling AVR Development Board for over 64 Atmel AVR MCUs in DIP packaging. It features USB 2.0 programmer and many essential and usefull modules necessary in development. Board comes with ATMEGA32.
Powerful on-board mikroProg™ programmer can program over 64 AVR® microcontrollers from Atmel®. EasyAVR v7 supports both 3.3 V and 5 V microcontrollers.
Modules
UART/RS-232

You can write UART applications for laptops too. Besides RS-232, there's also USB-UART.
4 Digits Display

4 digit 7 segment display is now a part of EasyAVR v7 as well.
GLCD/LCD

GLCD 128×64 and LCD 2×16 character displays are now closer together.
Dual Power Supply

Dual power supply allows the board to support both 3.3 V and 5 V devices.
Temp Sensors

There are analog LM35 and digital DS1820 temperature sensors on-board.
Port headers

Easily add extra boards using port headers. There's no need for soldering, just plug in the board and use it right away.
mikroBUS™ sockets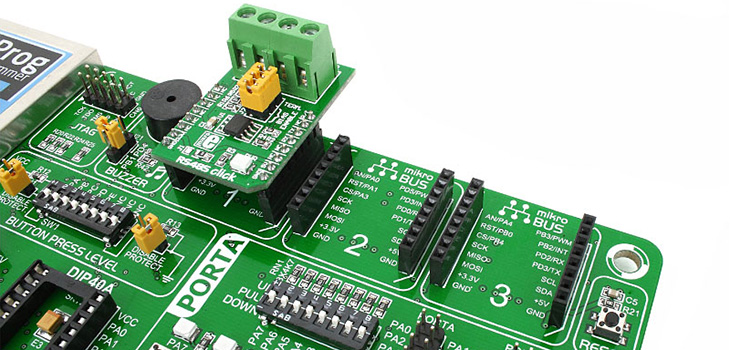 Thanks to three mikroBUS™ sockets you can upgrade the functionality of your board with the minimum effort. The collection of Click Boards available on our website offers a lot of options you can choose from.
Package Contains
EasyAVR v7 board in antistatic bag
USB cable